Meyers Memorial Scholarship
This is an annual scholarship for college-bound high school seniors and college enrolled students with a declared major in environmental sciences or environmental education. Each year, one student is selected to receive the $1,000.00 scholarship. The individual must reside in Ohio.  Applications for the 2019 scholarship will be due by April 15, 2019. The recipient of the scholarship will be announced in June.
C.R. Meyers was a long-time Ashland County Commissioner who served on the Ohio Department of Natural Resources Division of Recycling and Litter CR Meyers Application 2019 Prevention advisory board. Mr. Meyers was a strong supporter of OALPRP's mission, and he was an advocate of litter prevention, recycling and professionals who promote those programs. The scholarship was named as a token of the organization's appreciation for all his contributions, counsel, and support.
To apply for the C.R. Meyers Memorial Scholarship, download application form. Email or mail all requirements to the scholarship chair. A complete application includes an application form, letter of recommendation from your guidance counselor or academic advisor that includes your current GPA, resume of your school and community involvement, and a one-page essay of approximately 500 words, describing your attitude toward litter prevention, recycling, and environmental stewardship.
If you have any questions or would like to check if your application is complete, please contact:
Katrina Carpenter
Perry County Waste Reduction & Recycling
PO Box 621, 2231 St Rt 13
New Lexington, Ohio 43764
email Katrina
Promote C.R. Meyers Scholarship
Members can use the sample school letter and media press release to promote the scholarship within their communities.
2017 C.R. Meyers Recipient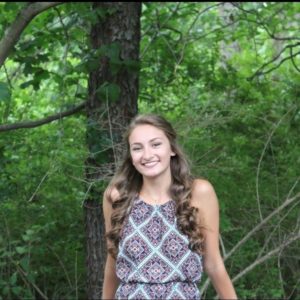 2018 C.R. Meyers Recipient:
Congratulations to Karley Carpenter from Crooksville, Ohio! Karley is our 2018 C.R. Meyers $1,000 Scholarship recipient!
She attends Ohio Northern University, majoring in Environmental and Field Biology.  Karley has wanted to make a difference for the environment since her first year in 4-H.  Relating her community service experiences as a volunteer working with Habitat for Humanity's Re-store program… Karley "loves the environmental aspect they incorporate by allowing the public to buy old furniture and appliances which reduces both waste and product demand".
Ewalt Enrichment Scholarship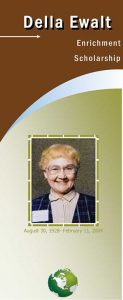 Della Ewalt exemplified what it meant to be a friend, colleague and leader. Della was always the first to volunteer. She helped OALPRP with training, by-laws and board development, and she was a diligent secretary for the organization. Della worked tirelessly for her local program. It won numerous awards and recognitions at all levels.
Personally, Della loved the arts and traveling. She was always involved in some local theatre production. Even her education programs were filled with puppets, skits and songs. Della's travels were inspiring to all. She traveled to many countries, learning about their cultures while sharing our culture. Della Ewalt touched so many lives, both at home and around the world.
It is because of Della's love of learning and life of adventure that OALPRP has instituted the Della Ewalt Enrichment Scholarship fund.
A scholarship may be awarded to OALPRP member in good standing for:
Attend Conferences: OALPRP, KAB, SECO, EECO, state offered or other associated trainings
Pursue Higher Education: undergraduate or graduate course expenses
Travel for Exploration: associated travel to environmental place of interest and/or promoting cultural understanding
Local Program Enhancement: supplement a local litter prevention and recycling program
Leadership Training: attend programs designed for professional development and/or leadership training provided by a local chamber of commerce or other appropriate entity
Requests are not to exceed $500.00 per applicant member organization. Applications are voted on by scholarship committee as they are received and the applicant will receive a response within two months of being received. More than one scholarship may be awarded in a year.
Apply for the Della Ewalt Enrichment Scholarship
Fill out application form and send to Scholarship Chair. Membership dues must be paid in full to be an OALPRP member in "good standing".
If you have any questions, you may contact the following individual:
Katrina Carpenter
Perry County Waste Reduction & Recycling
PO Box 621, 2231 St Rt 13
New Lexington, Ohio 43764
email Katrina