Meyers Memorial Scholarship
This is an annual scholarship for college-bound high school seniors and college enrolled students with a declared major in environmental sciences or environmental education. Each year, one student is selected to receive the $1,000.00 scholarship. The individual must reside in Ohio.  Applications for the 2019 scholarship will be due by April 15, 2019. The recipient of the scholarship will be announced in June.
C.R. Meyers was a long-time Ashland County Commissioner who served on the Ohio Department of Natural Resources Division of Recycling and Litter CR Meyers Application 2019Prevention advisory board. Mr. Meyers was a strong supporter of OALPRP's mission, and he was an advocate of litter prevention, recycling and professionals who promote those programs. The scholarship was named as a token of the organization's appreciation for all his contributions, counsel, and support.
To apply for the C.R. Meyers Memorial Scholarship, download application form. Email or mail all requirements to the scholarship chair. A complete application includes an application form, letter of recommendation from your guidance counselor or academic advisor that includes your current GPA, resume of your school and community involvement, and a one-page essay of approximately 500 words, describing your attitude toward litter prevention, recycling, and environmental stewardship.
If you have any questions or would like to check if your application is complete, please contact:
Katrina Carpenter
Perry County Waste Reduction & Recycling
PO Box 621, 2231 St Rt 13
New Lexington, Ohio 43764
email Katrina
Promote C.R. Meyers Scholarship
Members can use the sample school letter and media press release to promote the scholarship within their communities.
2017 C.R. Meyers Recipient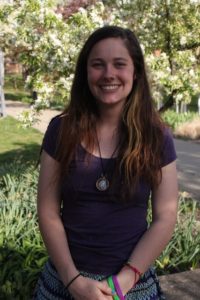 Congratulations to Joanna Sokol from Boardman, Ohio! Joanna is our 2017 C.R. Meyers $1,000 Scholarship recipient!
She attends Ohio University, majoring in Geography-Meteorology, with Environmental and Plant Biology minor.  Excellent message in her essay! Great example for us all…relating her community service experiences!
Throughout my life, I've always been focused on doing more than just learning about environmental conservation. In sixth grade, I took the initiative to contact the Youngstown area's Green Team; within a week, my family began recycling.  During my junior year of high school, I was welcomed into the National Honor Society. We were required to select a project that would benefit our home life; I chose to plant a garden which featured tomatoes, peppers, potatoes and much more. This allowed my family to grow and eat from our back yard which eliminated carbon fuels into our atmosphere. Fast forward to my college career, I find myself participating, volunteering, and educating others about environmental based decisions.
Entering my first year of college, I jumped right into EcoReps and became the club's treasurer. Our main focus was to educate our peers and the rest of the campus about environmental issues. We specialized in composting and held several different dorm programs that ended with a tour of Ohio University's compost facility. EcoReps opened me up to so many opportunities such as the ability to program and live on the first-ever Ohio University Sustainable Living Floor. The president of the club and I tabled twice a week recruiting others to partake in the opportunity to live on a floor which obtained censored lights, environmental based programs, and big-flush, little-flush toilets. We worked close with the office of sustainability for many months before the grand opening, and we experienced and participated in nine months of living on the floor. It brings me great joy to see the floor still in action with students who are just as eager about the environment as I am.
Not only had EcoReps opened me up to the Sustainability floor, but also, a job that I could not imagine my life without. For the past three years I have worked as a Recycle Specialist for Campus Recycling. Through this opportunity I am able to interact with other recycling distributers, reuse stores, and locals who are looking for ways to displace of their items. I learn something new every day; along with this, I am able to educate my peers on what I do and what they are able to do as well. At numerous football and basketball games, I help the public dispose and relocate their materials into the proper waste stream such as recycling, composting, or landfill. Working close with zero waste and campus recycling has encouraged me to get other club's to participate in more sustainable efforts. For meteorology club, I initiated Adopt-A-Highway which is cleaning up a two mile stretch of highway seven times a year. Another thing that I was able to do was turn the Meteorological Annual Symposium into a Zero Waste Event. Due to the activities I have been involved with, I have been able to encourage others to live a more sustainable lifestyle; to me, that is one of the greatest and most accomplishing feelings that I wish to continue to do for the rest of my life.
…well done, well said!   ~K. Carpenter, PC Waste Reduction & Recycling, OALPRP  Scholarship Chair, www.oalprp.org
Ewalt Enrichment Scholarship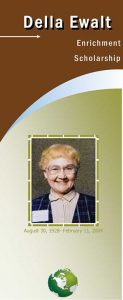 Della Ewalt exemplified what it meant to be a friend, colleague and leader. Della was always the first to volunteer. She helped OALPRP with training, by-laws and board development, and she was a diligent secretary for the organization. Della worked tirelessly for her local program. It won numerous awards and recognitions at all levels.
Personally, Della loved the arts and traveling. She was always involved in some local theatre production. Even her education programs were filled with puppets, skits and songs. Della's travels were inspiring to all. She traveled to many countries, learning about their cultures while sharing our culture. Della Ewalt touched so many lives, both at home and around the world.
It is because of Della's love of learning and life of adventure that OALPRP has instituted the Della Ewalt Enrichment Scholarship fund.
A scholarship may be awarded to OALPRP member in good standing for:
Attend Conferences: OALPRP, KAB, SECO, EECO, state offered or other associated trainings
Pursue Higher Education: undergraduate or graduate course expenses
Travel for Exploration: associated travel to environmental place of interest and/or promoting cultural understanding
Local Program Enhancement: supplement a local litter prevention and recycling program
Leadership Training: attend programs designed for professional development and/or leadership training provided by a local chamber of commerce or other appropriate entity
Requests are not to exceed $500.00 per applicant member organization. Applications are voted on by scholarship committee as they are received and the applicant will receive a response within two months of being received. More than one scholarship may be awarded in a year.
Apply for the Della Ewalt Enrichment Scholarship
Fill out application form and send to Scholarship Chair. Membership dues must be paid in full to be an OALPRP member in "good standing".
If you have any questions, you may contact the following individual:
Katrina Carpenter
Perry County Waste Reduction & Recycling
PO Box 621, 2231 St Rt 13
New Lexington, Ohio 43764
email Katrina