Meyers Memorial Scholarship
This is an annual scholarship for college-bound high school seniors and college enrolled students with a declared major in environmental sciences or environmental education. Each year, one student is selected to receive the $1,000.00 scholarship. The individual must reside in Ohio.  Applications for the scholarship will be due by April 15th. The recipient of the scholarship will be announced in June.
C.R. Meyers was a long-time Ashland County Commissioner who served on the Ohio Department of Natural Resources Division of Recycling and Litter Prevention advisory board. Mr. Meyers was a strong supporter of OALPRP's mission, and he was an advocate of litter prevention, recycling and professionals who promote those programs. The scholarship was named as a token of the organization's appreciation for all his contributions, counsel, and support.
To apply for the C.R. Meyers Memorial Scholarship, CR Meyers Application 2022. Email or mail all requirements to the scholarship chair. A complete application includes an application form, letter of recommendation from your guidance counselor or academic advisor that includes your current GPA, resume of your school and community involvement, and a one-page essay of approximately 500 words, describing your attitude toward litter prevention, recycling, and environmental stewardship.
If you have any questions or would like to check if your application is complete, please contact:
Jim Jerek
Mahoning County Solid Waste Management District
345 Oak Hill Ave. Youngstown, OH 44502
jjerek@mahoningcountyoh.gov
Promote C.R. Meyers Scholarship
Members can use the school sample letter and media press release to promote the scholarship within their communities.
2021 C.R. Meyers Recipient: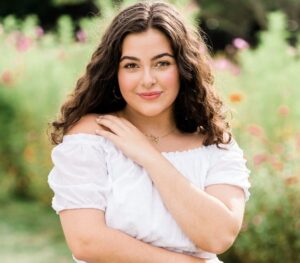 Congratulations to Olivia Nicole Balakos from Wintersville, OH!  Olivia is our 2021 C.R. Meyers $1,000 Scholarship recipient!
She plans to attend Miami University, majoring in Sustainability and Global Diplomacy.  Quote from Olivia's essay: "We, as humans on Earth, are innately parasites. We take all the resources the host needs. We ruin the host entirely and never worry about the consequences. But the funny thing about parasites is they need the host to survive; once they kill the host, they will kill themselves (since we have no other host). It is also kind of funny that environmental health is made political. I think we would all prefer if our host was not politicized, but we need to do what we can with what we have to stop Her from dying. We have to be less parasitic. If we are continually toxic to our Earth, we will no longer have a host to steal from. We all must do better.  Participating less in our consumption-based society can help with this. Our consumer lifestyle promotes so much waste; even if all of us individually make efforts to be more green, sustainable, and eco-friendly, the big, toxic producer companies will still cause a great deal of this waste. We actively have to demand change from not only ourselves, but monster producers in our society."
Ewalt Enrichment Scholarship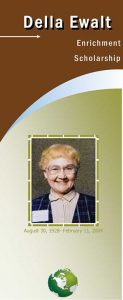 Della Ewalt exemplified what it meant to be a friend, colleague and leader. Della was always the first to volunteer. She helped OALPRP with training, by-laws and board development, and she was a diligent secretary for the organization. Della worked tirelessly for her local program. It won numerous awards and recognitions at all levels.
Personally, Della loved the arts and traveling. She was always involved in some local theatre production. Even her education programs were filled with puppets, skits and songs. Della's travels were inspiring to all. She traveled to many countries, learning about their cultures while sharing our culture. Della Ewalt touched so many lives, both at home and around the world.
It is because of Della's love of learning and life of adventure that OALPRP has instituted the Della Ewalt Enrichment Scholarship fund.
A scholarship may be awarded to OALPRP member in good standing for:
Attend Conferences: OALPRP, KAB, SECO, EECO, state offered or other associated trainings
Pursue Higher Education: undergraduate or graduate course expenses
Travel for Exploration: associated travel to environmental place of interest and/or promoting cultural understanding
Local Program Enhancement: supplement a local litter prevention and recycling program
Leadership Training: attend programs designed for professional development and/or leadership training provided by a local chamber of commerce or other appropriate entity
Requests are not to exceed $500.00 per applicant member organization. Applications are voted on by scholarship committee as they are received and the applicant will receive a response within two months of being received. More than one scholarship may be awarded in a year.
Apply for the Della Ewalt Enrichment Scholarship
Fill out application form and send to Scholarship Chair. Membership dues must be paid in full to be an OALPRP member in "good standing".
If you have any questions, you may contact the following individual:
Mahoning County Solid Waste Management District
345 Oak Hill Ave. Youngstown, OH 44502